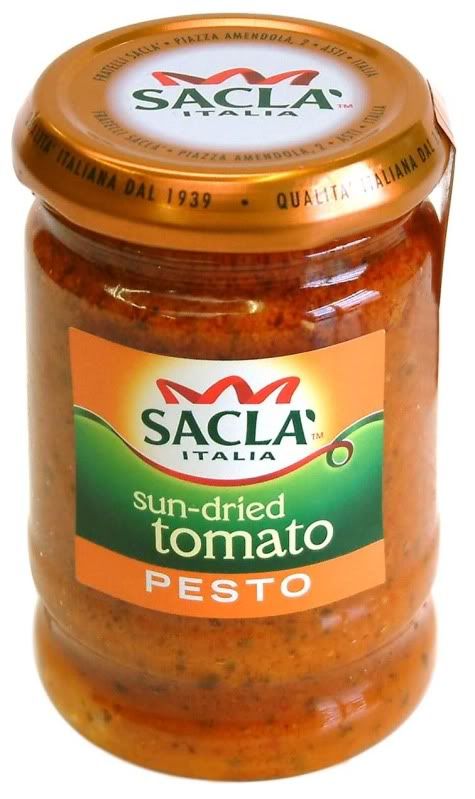 As you may remember
from this post
I love pesto. It will always be one of my kitchen staples for its versatility and of course, yummyness. I was sent a jar of Sacla's Sun Dried Tomato Pesto to put through it's paces.
"Mellow but intense. A sauce that boasts fragrant Ligurian basil, Italian sun-dried tomatoes, Grana Padano cheese and, as with all great pesto sauces, crushed pine kernels.
Stir it through a chunky pasta (like a good penne,) let it cling to every contour and, finally, let it rain Parmesan.It can also give your soups, gravy and casseroles extra depth - leave aside how good it can make you look in the kitchen
.
"
- From the
Sacla' website
.
Sounds very promising doesn't it? Well let me tell you something. Not only did it deliver everything it promised, but so much more. I have used this in so many things and I'm in love. My favourite experiments so far have been in a seeded bread sandwich with parma ham + guacamole and mozzarella, A simple bacon sandwich in replace of the ketchup (or brown sauce if you are that way inclined!) And in pasta for which I was given this sample recipe:
Fusilli with Sacla' Sun-dried Tomato Pesto & Crispy Pancetta
Ingredients
450g fusilli
75g frozen petits pois
70g thinly sliced pancetta
300ml crème fraîche
4 rounded tblsp Sacla' Sun-Dried Tomato Pesto
1 heaped tblsp roughly chopped Italian parsley
Salt & freshly ground black pepper
Instructions
Put a large pan of salted water on to boil for the pasta and cook the fusilli according to the pack instructions, throwing the peas in for the last couple of minutes.
Dice and fry the pancetta in a pan until really crispy. Then remove from the pan and leave to drain on kitchen paper to remove any excess oil.
Then, to make the sauce, combine the crème frâiche and pesto in a small pan and gently heat through for a few moments, stirring to mix well. Add 4 tablespoons of water and season, stir again until hot.
Drain the pasta and peas in a colander. Transfer to a warm serving dish, stir the sauce through the pasta, scatter over the pancetta and parsley and serve straightaway for a super speedy supper.
Picture doesn't do it justice really, not having much luck with electronics lately.
I really urge you to give this yummy pesto a go, you wont be disappointed!