After a couple of gorgeous (although soggy underfoot) days the weather is once again crappy. During October I'm usually jumping on crunchy leaves singing "It's the most wonderful time of the year!..." like a five year old child. If I was to try and do that lately I'd fall on my ass and cover my face in mud...and probably dog shit knowing my luck.
As miserable as it is outside our bodies don't have to be. Give yourself a happy body from the most important part of the day, apart from dinner, with my shower time essentials.
I picked this up from The Body Shop outlet in Gunwharf Quays, Portsmouth, Where the items are already discounted but the more you buy, the more % off the total price you get on top of that. I spent about £4 something on what would've been over £20 so I have already put the place in charge of a significant portion of my Christmas shopping. Don't know what to buy for the female members of your family? This place is for you.
The fragrance of this shower gel is deliciously summery and fruity without being sickly sweet. I'm so fond of it I might have to pick up the fragrance when I'm next over there as I think that was only about £3 full price. A little goes a long way and it turns into a lovely creamy lather you can rub all over yourself whilst clinging to the last memories of summer. Yum.
White Glo Whitening Toothpaste
I discovered White Glo when I was in Australia. After years of having to drink a large glass of orange juice everyday as a child my tooth enamel was severely damaged and although now my oral health is 'Ok' now I still have to be careful when it comes to whitening products. This toothpaste is low abrasion so I gave it a go and was amazed by the results. As a coffee addict my teeth are prone to staining and within just a couple of days my teeth were significantly whiter. They also feel 'dentist clean' after the first use so I quickly fell in love with it.
When I saw a free sample a couple of months ago in my Women's Fitness magazine I was over the moon that it was available in the UK. This pack pictured I got in Boots and it came with a free toothbrush and a sample of their toothpicks that I've popped in my handbag to judge at a later dinner date. For only £3.99 you get a large tube so it's great value.
Wlikinson Sword's Quattro For Women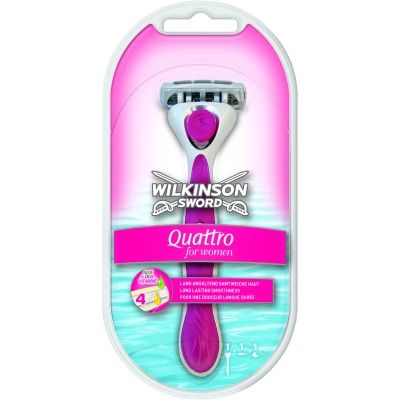 I never thought I would get excited by a razor, but after being let down by my Gillette razors too many times I voiced my frustration on Twitter and my followers told me to try these. Currently in Boots they have a great offer, Buy a pack of replacement blade and get the Quattro Razor free! Cheers Boots! What a perfect opportunity to try these out and they did not disappoint! The razor itself is easy to manoeuvre (Great for bikini areas) and it glides effortlessly over the skin giving the closest and most comfortable shave. Hair removal perfection.
I'm still jobless, the weather sucks ballsack and my MS is being niggly. Boo hiss.